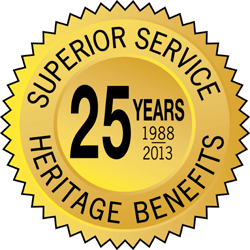 Founded in 1988, Heritage Benefits™ and its affiliated companies provide estate preservation and wealth management services to over 3,000 clients throughout the Puget Sound, with a combined net worth of over $2 billion dollars. Our focus is on preservation and growth of our clients' generational wealth.
We are proud to have protected our clients from over $200 million dollars in unnecessary federal and state taxes, legal fees and probate costs. We know that you worked hard for your money and we are here to help you preserve it.
In addition, we provide free individual consultations and seminars to educate the community on how to structure their financial assets and legal affairs to legally reduce or eliminate estate taxes, capital gains taxes, income taxes, legal fees and probate costs.
Contact us today to set up a time to come in and talk with us. We look forward to welcoming you as part of the Heritage family.
Advisory Services offered through KCD Financial, Inc., MEMBER SEC/SIPC
Investment Adviser Public Disclosure website at http://www.adviserinfo.sec.gov